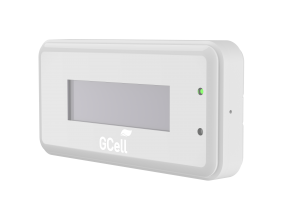 GCell announces entry into the iBeacon hardware market with their G100 indoor solar powered iBeacon. The World's first energy harvesting iBeacon offers a renewable energy supply and a 100-millisecond (10 times per second) advertising rate as default.
The G100 Indoor Solar Beacon is an enterprise grade iBeacon aimed at large-scale deployments.  It has the longest lifespan.
The number of beacons deployed Worldwide has exceeded 6 million, according to proximity marketing directory www.Proxbook.com. The use of beacons throughout airports, cinemas, hotels, galleries, retail stores and sports stadia allow the broadcasting of Bluetooth signals that a smart phone can receive and understand. This makes it possible for brands and venues to communicate with audiences at a precise location at the time of their visit.
Utilising their expertise in energy harvesting GCell plans to overcome one of the major challenges constraining the mass adoption of iBeacon since Apple introduced the technology in June 2013.
Professor Michael Grätzel, recipient of the 2012 Albert Einstein World Award of Science and the 2010 Millennium Technology Prize for inventing Dye Sensitised Cells, commented "I am delighted that GCell have introduced the World's first indoor solar powered iBeacon. GCell continue to lead the way for the use of indoor photovoltaics. I anticipate that this is the first of a series of indoor wireless beaconing and smart sensor devices powered by a renewable energy source."
Barry Jenkins from GCell remarked "We have been patiently watching the iBeacon ecosystem to mature. We quickly recognised that battery-life is one of the biggest challenges for industry growth due to the high servicing costs. Initially Beacon hardware vendors used small coin cell batteries typically lasting less than a year. Each time a beacon requires a replacement battery there is an associated service cost, and that adds to the total cost of ownership."
The G100 indoor solar powered iBeacon uses a renewable energy source to enable broadcasting at the Apple iBeacon standard of 100-milliseconds advertising rate for the life of the product. Broadcasting by default at the 100-millisecond advertising rate allows application developers to target users and navigate indoors more accurately.
The introduction of the G100 indoor solar powered iBeacon will see GCell partner with proximity platform providers and indoor location service providers to benefit the enterprise, retail, sports and leisure applications of iBeacon.
Pre-orders for GCell Beacon Development Kits are being taken at the website www. ibeacon.solar. Additional GCell Beacon products are set to be launched later in 2016.