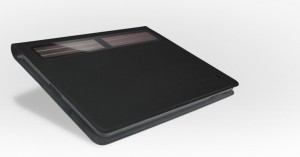 Logitech Solar Keyboard Folio for third-Generation Apple iPad and iPad 2 powered by G24's pioneering light energy-harvesting technology
• First major application of game-changing Dye-sensitised Solar Cells
• Breakthrough technology set to change the relationship between consumer electronics and the energy they rely upon, allowing product designers to throw away the rule book
G24, the pioneering manufacturer of Dye-sensitised Solar Cells (DSSC), has collaborated with global computer peripherals leader, Logitech, to create the world's first light-powered tablet keyboard folio. The Logitech® Solar Keyboard Folio for the Third-Generation Apple iPad® and iPad 2, announced by Logitech on May 3, 2012, represents the first major application of game-changing DSC technology in the consumer electronics space.
The ultra-slim folio delivers tablet protection and features a built-in Bluetooth® keyboard that is powered by any light, even lamp light. With no silicon components, G24's DSSC technology is lightweight, power-dense, robust and flexible; ideal as an integrated, portable and environmentally-friendly power source.
The two businesses have worked closely for over two years to deliver a product that liberates the customer from the burden of having to replace expensive and environmentally harmful disposable batteries. During this time, G24i has extended its record indoor light conversion to over 26% efficiency, rating its DSSC technology as almost five times more powerful than its nearest competitor.
Bracken Darrell, Logitech President commented, "We're excited about the Logitech Solar Keyboard Folio. This signals the future of small electronics. G24 is at the forefront of a whole new class of sustainable, self-powered products that don't need charging or replacement batteries. You buy them and they need nothing but light."
"G24's record power density, together with the lightweight, robust and flexible profile of its cells, gives us confidence that advances in DSSC technology can keep up with the demands of ever-more power hungry devices in the future."
"G24 and Logitech are proving that being green can also be about customer convenience, design excellence and cost effectiveness," commented Robert Hertzberg, Co-Founder and Director of G24. "This is not a novelty product."
"This deal is an important milestone in the development of our business and its aim to displace disposable batteries with next-generation energy harvesting technology. The global market for disposable batteries is worth in the region of $80bn a year."
G24's technology was developed at Ecole Polytechnique Fédérale de Lausanne (EPFL), where Logitech also has a long and proud history. Professor Graetzel's Dye-sensitised Solar Cell invention is recognised as coming close to mimicking the light reaction in nature's photosynthesis.
"G24 has made my vision of mimicking nature's photosynthesis a commercial reality", commented Professor Michael Graetzel, recipient of the 2012 Albert Einstein World Award of Science and the 2010 Millennium Technology Prize for inventing Dye Sensitised Cells. "By leveraging a renewable energy source that is readily available, G24i and Logitech can change the face of consumer electronics. I anticipate that this is the first of a series of successful green products."
The Logitech Solar Keyboard Folio is expected to be available in the U.S. and Europe from May 2012, for a suggested retail price of $129.99.