G24 Power is the world leader in DSSC manufacturing. Our proprietary technology has the capability of manufacturing more than 500,000 linear meters of GCell modules per year.
Roll-to-roll manufacture is at the heart of our GCell product because of its robust, lightweight, thin and flexible properties. In terms of high speed and high capacity the roll-to-roll web process is similar to inkjet printing.
DSSC manufacturing is done using readily available materials that are not toxic. GCell doesn't require high energy processes associated with the manufacture of 1st generation wafer-based PV and makes use of significantly less vital raw materials used in the manufacture of 2nd generation solar cells.
Our culture of continuous improvement enables us to identify cost reduction opportunities for incoming materials, enhancement of GCell product architecture, and more efficient production processes.
Two-stage DSSC manufacturing process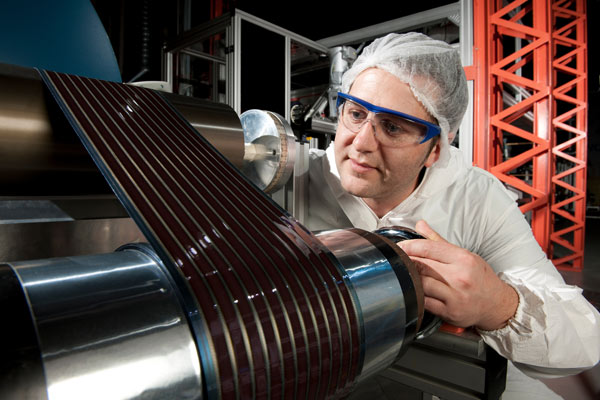 Initially DSSC manufacturing creates  rolls of GCell up to 500 metres in length and 150mm wide. A secondary DSSC manufacturing process customises and finishes the GCell into a module to suit the size requirements of the customer. We add an interconnect between the GCell module and the product mating printed circuit board (PCB), and finally we encapsulate the GCell module to provide environmental protection.
World-class DSSC manufacturing capabilities
G24 Power offers world-class DSSC manufacturing capabilities including a quality assured, lean, and on-time-in-full delivery performance programme to OEM partners around the globe.
Our strengths:
ISO 9001 QMS certification accredited by Societe Generale de Surveillance
Several years experience of DSSC manufacture
Proprietary equipment, strong IP portfolio and extensive manufacture know-how
Extensive and continuously updated standard operating procedure (SOP) library
100% testing and characterization of GCell module, as per customer specification, prior to shipping
Rapid implementation of R&D advances.