GCell is an indoor Energy Harvesting (EH) technology, otherwise known as power harvesting or energy scavenging. It is the process by which ambient energy, in this case light, is captured and converted directly into electricity for a wide range of indoor and portable products.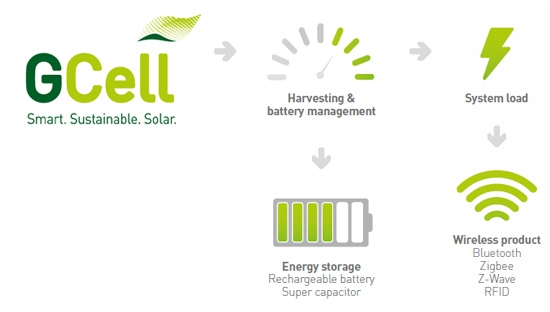 Products powered by GCell reduce or eliminate the need to use disposable batteries and should be used in instances where replacing batteries is impractical, costly, or dangerous.
Applications using GCell as an indoor Energy Harvesting source will benefit from an optimised indoor solar cell that can provide a maintenance free product that reduces land-fill waste and the users' carbon footprint.
Energy Harvesting applications
The IDTechEx report Energy Harvesting and Storage for Electronic Devices 2012-2022: Forecasts, Technologies, Players reports that
"Although Energy Harvesting applications reach from vehicles to the smart grid, the majority of the value this year (2012) is in consumer electronic applications, where energy harvesters have been used for some time."

"The technology has reached a tipping point, because the necessary lower power electronics and more efficient energy gathering and storage are now sufficiently affordable, reliable and longer lived for a huge number of applications to be practicable."
IDTechEx's take on the power requirements of small electronic products, the types of battery employed and the promise of energy harvesting.
Characteristics of Energy Harvesting applications
Ability to operate with lowest standby current to maximize storage of energy
Consume lowest possible power when active
Ability to turn on and turn off instantaneously
Efficient operation with lowest duty cycle of active vs. standby modes
Analog capability for sensor interfacing and measurements
Ability to operate with a low voltage range
Lowest leakage currents to maximize harvested energy.